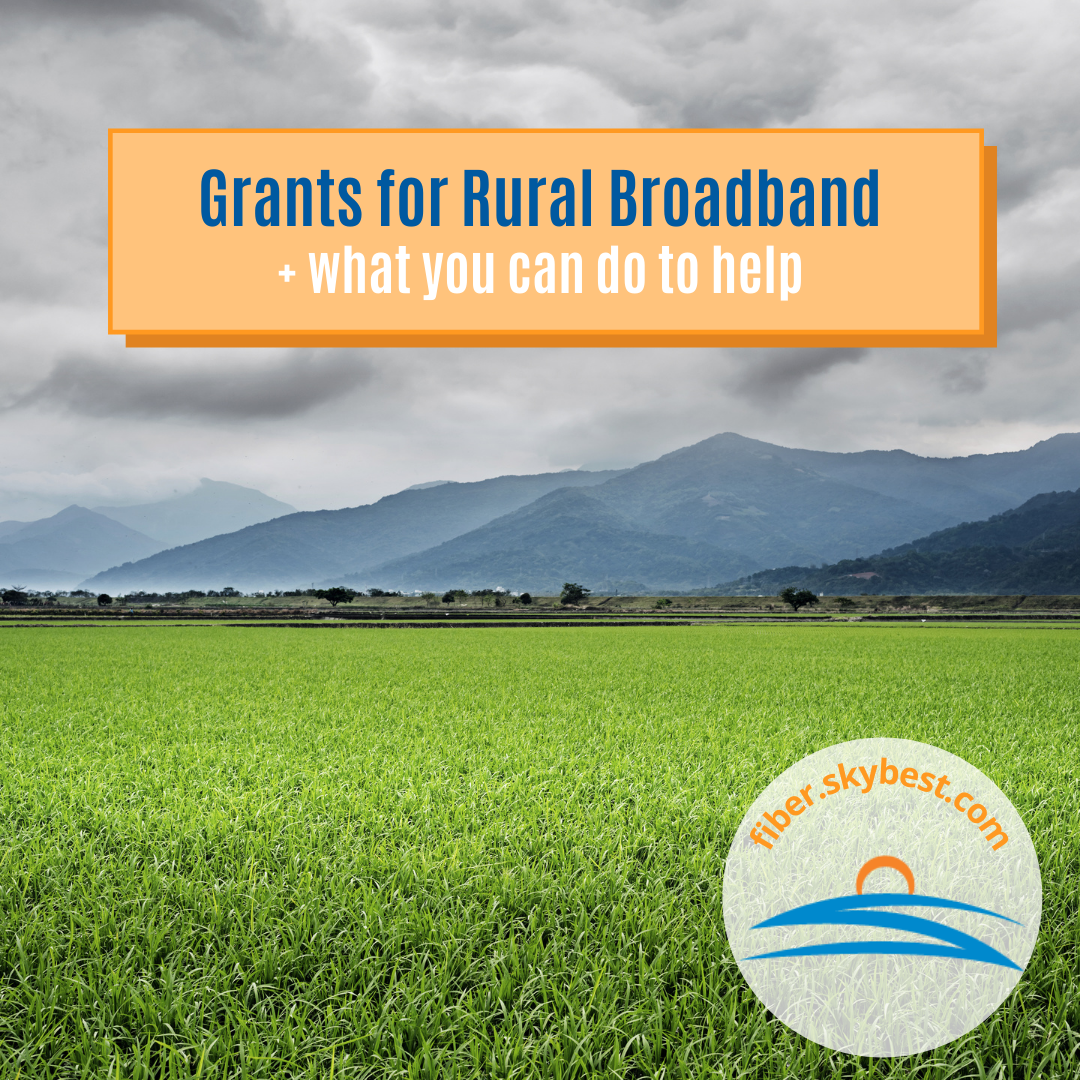 As some of you may have seen, there are large amounts of funding from the state and federal government becoming available for broadband expansion. We are working each day to apply for those monies in order to bring fiber internet to those in our community who need it most. However, throughout our years of doing this, we have learned that it is not a simple, straightforward process, and there is much more to it than simply filling out an application and receiving the money. It is a large undertaking that involves many different people and a great deal of time. Nonetheless, please be assured that our grant team is working tirelessly to go after available money that will help bring fiber internet to those in our community who need it most.
Our History of Grant Funding
In August of 2010, we were awarded a grant from the U.S. Department of Agriculture (USDA) to help accelerate the timeline of our planned Fiber-To-The-Premise (FTTP) build-out that began in 2004. What normally would have taken 20 years to complete, we achieved in 2016, well ahead of schedule, and became one of the first rural telecom companies in the country designated as a Gig-capable broadband provider by NTCA—The Rural Broadband Association. Most recently, we expanded into Sutherland, TN, a community located at the northeastern tip of Tennessee that borders Virginia. We received funding for this project in August of 2020 through the CARES (Coronavirus Aid, Relief and Economic Security) Act. A contingency of this grant required that the project be completed by December of that same year. With such a small amount of time, this project was no small feat. However, in four months, with a little help from Treeline Helicopters, SkyLine was able to deploy 2.5 miles of fiber through the Cherokee National Forest that gave high-speed internet to the members of Sutherland community. We take great pride in, not only going after any available funding, but also stewarding that money in the best and most appropriate way. We are seasoned in applying, receiving and delivering on grant funding; our history proves it.

Since the COVID-19 Pandemic brought forth an increase in government funding, SkyLine/SkyBest has won significant monies in multiple different counties. We connected 40 customers in the Riverside area of Avery County through the ARC Grant and 220 customers through the GREAT Grant in Caldwell County. In January of 2022 the Watauga County Board of Commissioners announced that SkyLine/SkyBest, in partnership with Blue Ridge Energy, was the recipient of 7.75 million dollars to complete a broadband expansion project; in September of that same year, Tennessee's Department of Economic and Community Development awarded us over five million dollars to expand broadband to over 2,000 homes and businesses in specific areas of Carter and Johnson counties.
What Can You Do to Help Bring Fiber Internet to Your Community?
Do you want SkyBest Fiber Internet at your home or business? The best thing to do is let us know! While we're working on bringing fiber to you, here is what you can do to help us out:
Fill out an interest form—Go to fiber.skybest.com and put in your address. If service is unavailable to you, you will be asked to give additional information, such as street address and contact details; if possible, you will also need to run a speed test from your home. (For help on how to get the most accurate speed test results, click here.) We will be notified of your interest, which will be documented for consideration when we are making decisions about where to build next.

Make sure to leave us a personal comment telling us why you need SkyBest Fiber Internet! Things to include are: how slow internet negatively impacts your life—whether that's your inability to do certain activities or extra steps you have to take to complete something, as well as how having high speed internet would help you and your family have a better quality of life.

Tell a friend—Once you've filled out your own interest form, spread the word to all your neighbors! The more people in an area or community, the better. This lets us know that the need for fiber is high where you are.
We understand the significant need for broadband service, and we want you to know we are aware of, and are currently working on, funding that has recently become available. Although the process is lengthy, we highly encourage you to take the steps listed above. This helps us in determining where the greatest need for service is. If you have any further questions, please visit us online at skybest.com or give us a call at 1-800-759-2226.