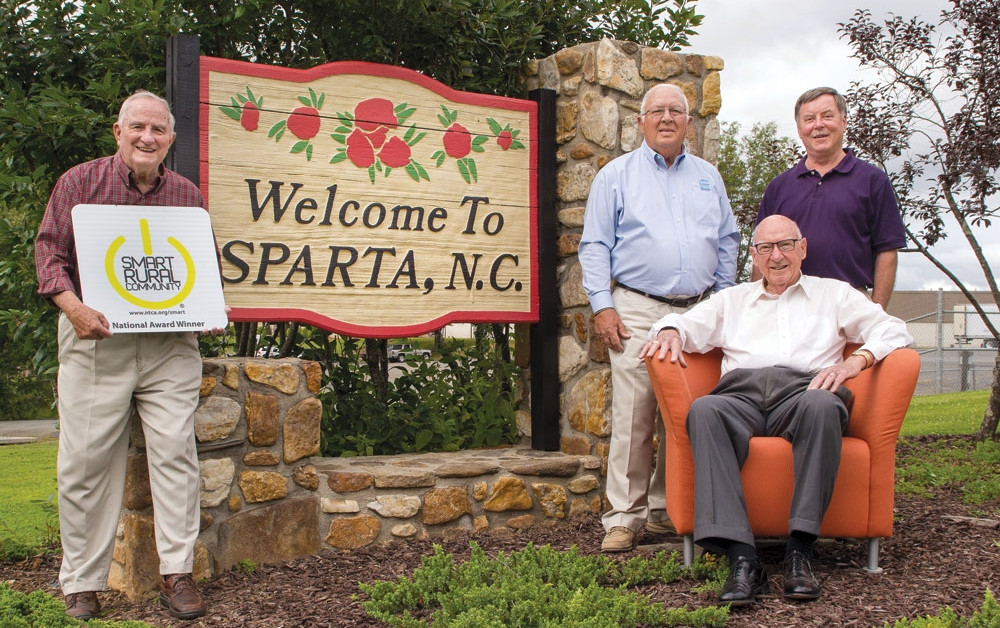 The Town of Sparta and Alleghany County represent multiple municipalities and more than 35 communities across SkyLine's service area that can use the "Smart Rural Community" designation thanks to the efforts by SkyLine to build a robust fiber network and to provide innovative and collaborative broadband solutions that enhance local communities.
Pictured (l-r): Mayor John Miller with the award, SkyLine Board Secretary Jim Shepherd, SkyLine President R.C. Mitchell (seated), and Sparta Town Manager Bryan Edwards.
Internet Provider in Sparta, NC
High Speed Internet in Alleghany County
Looking for the best internet provider in Sparta, NC? Look no further than SkyLine/SkyBest. With speeds up to 1 Gig, no other internet service provider in Alleghany County can match the speed and reliability of SkyBest Fiber-optic Internet. Plus, SkyBest offers symmetrical speeds over its fiber-optic network. This means that your upload speed is as fast as your download speed. Most internet providers offer a high download speed, but a much lower upload speed.
Fiber-Optic Internet in Alleghany County
With SkyBest fiber-optic internet, you will notice much faster internet speed when you FaceTime, Skype and upload videos to YouTube or photos to Shutterfly. For online gamers, this unbeatable upload speed is a real competitive edge. Click here to see if Fiber is available in your area.
---
What are the benefits of having fiber-optic internet in Sparta?
Fiber-optic internet service has virtually unlimited bandwidth, giving you the best internet speeds, and making it a standard medium that will be in place for many years to come. Read our blog post to learn more about the benefits of SkyLine/SkyBest fiber-optic internet in Sparta.
SkyLine/SkyBest is conveniently located on Grayson Street near Crouse Park. Call, drop in or schedule an appointment to learn more about internet services in your area.
199 Grayson Street
Sparta, NC 28675
Office Hours: M-F 8 am - 5 pm
More convenient office locations.
Need SkyLine/SkyBest high speed internet for your business? Click here.
---
What they are saying about SkyBest High Speed Internet in Sparta, NC:
"As part of the strategic planning process for Alleghany County and the Town of Sparta, we recognize the significance of promoting the broadband capabilities available to residential consumers and to existing and potential businesses in the county. All of our schools and community college are connected, and the service is available throughout the county. We are so fortunate to have a cooperative such as SkyLine to bring the infrastructure to attain the "Smart Rural Community" designation for Alleghany County and the Town of Sparta."
Sparta offers its residents and visitors a fiber network, meaning this small rural community has access to the fastest Internets speeds available. Being designated a "Smart Rural Community" shows that Sparta is a vibrant place to live and do business.
Learn more about the Smart Rural Community Designation and how SkyLine/SkyBest brought fiber-optic Internet to Sparta.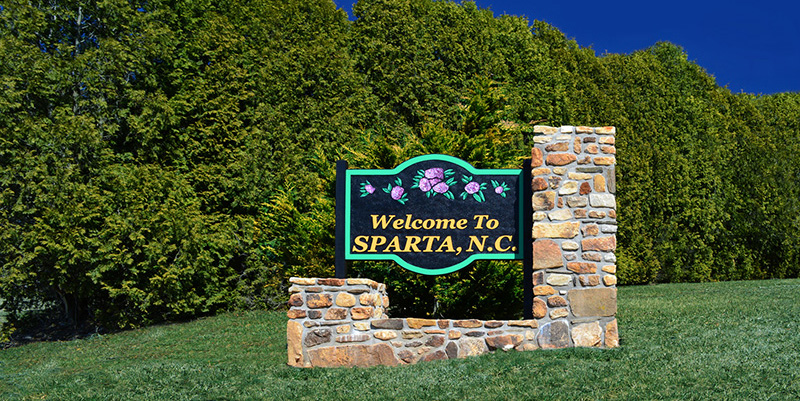 Photo credit: Todd Bush
Sparta Insider Tip:
Sparta has multiple golf courses for visitors to enjoy spring through fall. The town hosts Music on Main the first Friday of each month starting in June. Food trucks line Main Street and local musicians get the crowds dancing in the street. The Blue Ridge Parkway is only minutes from Sparta and offers great hiking, views, and camping to its visitors. Be sure to visit one of the many outfitters scattered along the New River, and take your friends or family on one of their exciting canoeing, kayaking, tubing, camping and/or fishing trips. The third Saturday in September is the annual Mountain Heritage Festival where over 100 food and craft vendors line Main Street. This event also offers live music and traditional mountain dance.
---
High Speed Internet in Glade Valley, NC