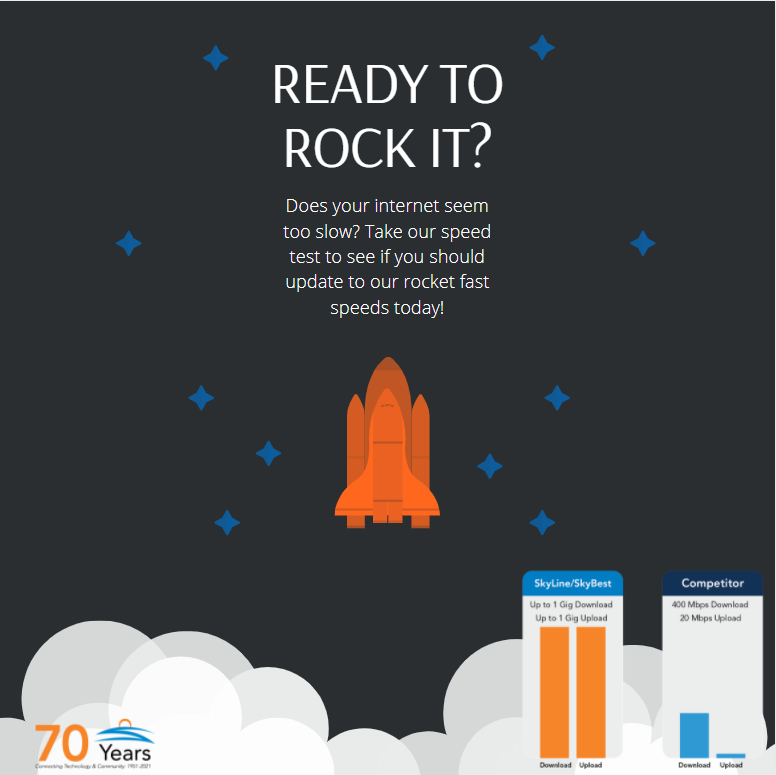 What is a Speed Test?
A speed test is an easy way to see how fast your internet is working and how quickly information is being transmitted over the internet. Using a speed test will also inform you of both the upload and download speed. With SkyBest symmetrical internet, your upload speed is just as fast as your download speed. On the other hand, most internet providers offer a high download speed but a very low upload speed, meaning things like uploading your family pictures to social media will take significantly longer. Click here for a speed test tool so you can see for yourself how fast your internet really is.
How does a Speed Test work?
An internet speed test is going to run multiple tests to examine your ping and download/upload speeds. Ping is your internet connection response time, and your download/upload speeds are how fast things are coming to and leaving your computer. To get the most reliable results, make sure you are conducting the speed test through a device with a wired connection and NOT a mobile phone or other mobile device. Otherwise you will be testing the speed of your Wi-Fi.
Do you need more speed?
If you're already a SkyBest customer and your speed test confirms a slow down with your fiber-optic internet, then be sure to give us a call at 1-877-475-9546 to report this issue. With our reliable fiber-optic internet and our internet speeds up to 1 Gig, we can guarantee that you will never experience slowdowns due to increased traffic. Therefore, this could be a more serious problem. So be sure to take this speed test and give us a call.
If you are not yet a SkyBest customer, be sure to visit our website www.skybest.com or call us at 1-800-759-2226 to get the speed you actually need from the best internet service provider in the area.