How to change your PIN
This help topic only applies to customers on the Innovative Platform.
For a relevant topic on the Minerva platform, click here.
You are on the Innovative Platform if your guide looks like this: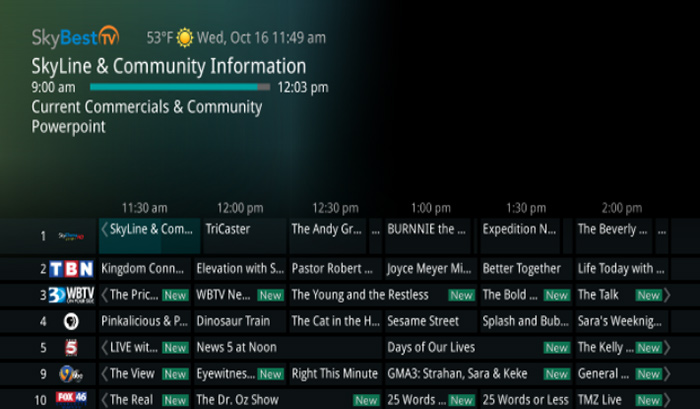 You are required to have a PIN to get into menu settings to add, edit or remove Parental Blocks and Channel Blocks. We strongly recommend that you change your Ratings PIN so that your children can not access these settings.
Initial PIN: 0000
Click the MENU button on your remote.

Scroll down to "Settings" and click OK to select it.

Scroll down to the "Parental" tab and click OK once more to select it.

Click OK on the "Change Pin" option and a menu will appear.

You now have the option to change your "Ratings Pin". — The "Ratings PIN" allows you to change the PIN that is related to the maximum rated program that can be watched on your STB.

Once you have decided on the PIN you would like to change, you can scroll to the box labeled "Old PIN" under either the "Ratings PIN" heading.

Enter your current PIN in the "Old PIN" box.

Enter what you want to change your PIN to in the "New PIN" box.

Re-enter the number you entered in the "New PIN" box in the "Re-enter New PIN" box.

Scroll down and select "OK" to save your new PIN.
Not quite right?
Check out these other popular search topics: