Communications technology is a constant presence (and sometimes pressure) in my life. I find myself texting, messaging, Facetiming, emailing, tweeting and snap-chatting sometimes simultaneously and never from the same location. In contrast, communication technology in my early life consisted of stretching the long, winding cord of my home telephone from the kitchen to the hallway for a private conversation with a friend. At that time, I dreamed of a phone with no strings attached. The advent of the cordless home phone, followed by the universalization of smartphones, made my childhood dreams a reality. However, as an adult, I understand the critical importance of keeping a corded phone connected at my home. And, here's why you should always have at least one corded phone at your home or business.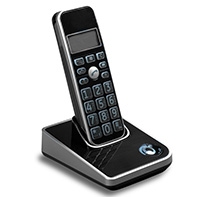 Cordless phones, as pictured at left, require electricity to their base unit in order to operate. What happens to a cordless phone during a power outage? It simply won't work. Some models have a backup battery built in, so they will work, but only for a limited time. A traditional corded phone does not require electricity and will continue to operate through an extended power outage. In the event of an emergency, a corded phone will also provide emergency services your exact location, when a mobile device can only provide a general area.
If you have phone service from a fiber optic provider, like SkyLine/SkyBest, you may remember when a technician installed a "battery back-up unit" in your home. It is important to understand that this is not a generator. It does not supply power to your phone set or other devices, like TVs, wireless routers or set-top boxes. These fiber-optic battery back-up units are in place solely to power the Optical Network Terminal (ONT) that provides your dial tone, Internet and TV service. For uninterrupted access to phone service in a power outage, a corded phone is your answer. Click here for more information on what to do if your "battery back-up unit" needs to be replaced.
The use of corded, landline phones is not antiquated. It's about being smart, empowered and prepared to ensure your family can communicate in the event of a power outage. It's an easily forgotten, but easily obtained, $10 - $20 investment in your family's safety.
As a local communications provider, SkyLine/SkyBest encourages you to shop at a local retailer to find an affordable corded landline phone. Your local Chamber of Commerce in West Jefferson, Sparta, Boone, Banner Elk or Lenoir, North Carolina can recommend local stores that sell these phones.