SkyLine/SkyBest is proud to provide fiber-optic technologies to many communities located in this region of northwest North Carolina. The map below illustrates how concentrated fiber connectivity is readily available in this corner of the state. SkyLine's fiber investment across its network over the past 30 years exceeds $230 million, earning the distinction of having the most extensive fiber infrastructure in northwest North Carolina. Fiber gives us unlimited capacity and positions us to grow our network and be 'future-ready' as the needs and demands of our customers increase. With our cooperative-based service area now fiber-deployed, we are moving forward with aggressive plans to secure state and federal grants--combined with our own resources and expertise--to expand fiber services to new communities desperately lacking adequate broadband connectivity.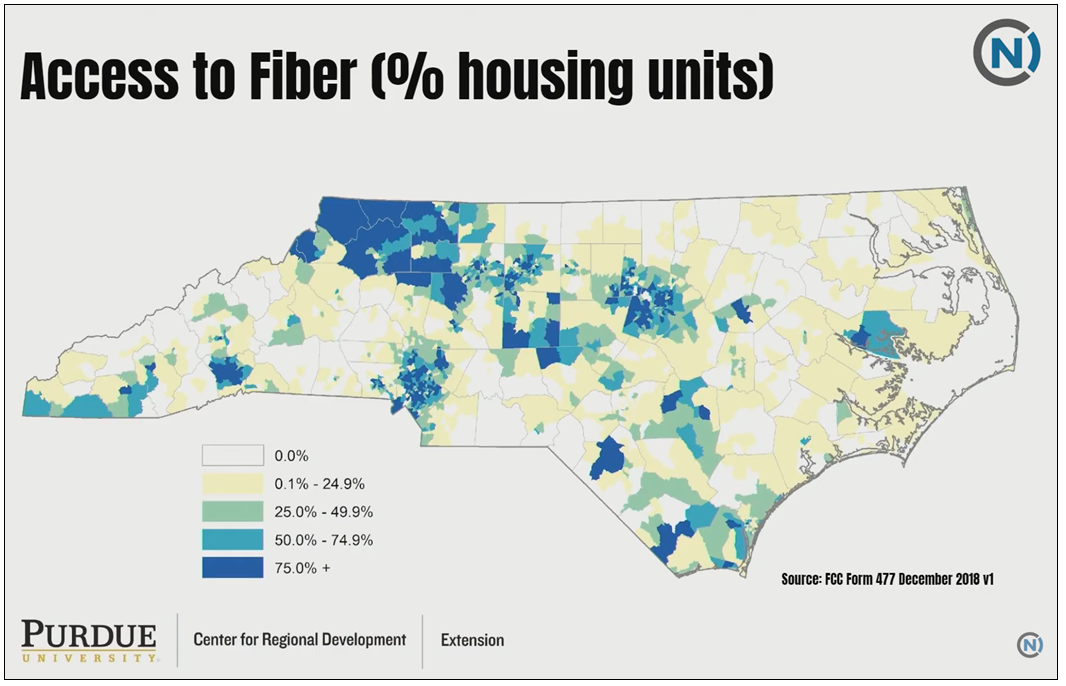 Having a residential fiber connection can increase a home's total value, with one study showing an average increase of $5,000 on the purchase price, with monthly apartment rentals having an increased value of 15 percent. SkyLine/SkyBest offers speeds up to 1 Gig with internet packages starting as low as $45/month.
Would you like to work from home? Fast and reliable internet service is a must for anyone wanting to work from home, and that's what our company provides. Northwest North Carolina is telework-ready, and our area of the state brings a lot to the table to attract and support teleworkers, including:
• High percentage of housing units with access to fiber and symmetrical Gig speeds
• Destination area featuring the natural beauty of rural mountains
• Low population density and low crime
• Growing cultural and consumer amenities
• Better quality of life with a slower pace, away from the rat race and long commutes
• Ability to work from home on weekends or telework here full time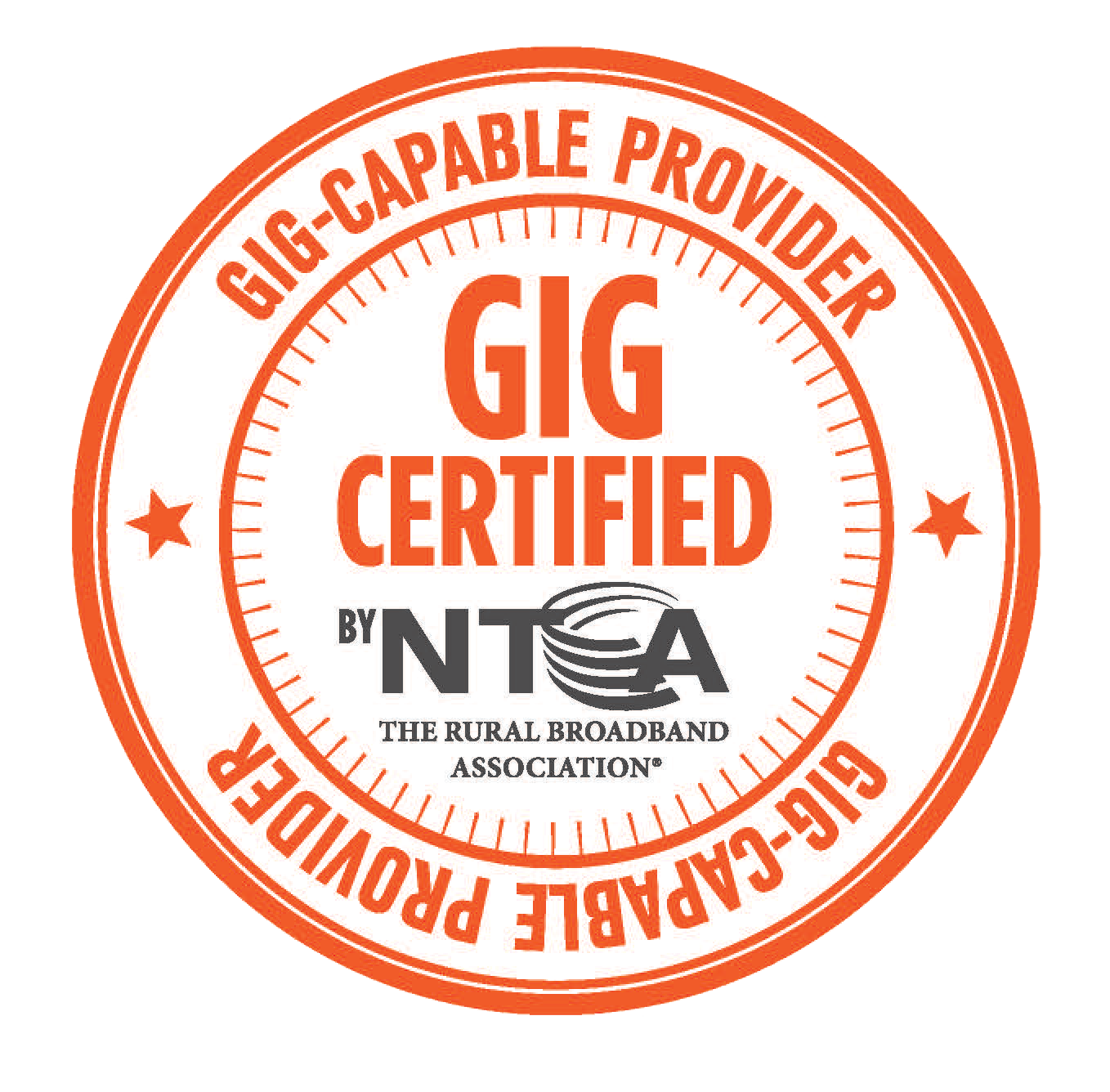 In 2015, SkyLine became one of the first rural-based telecommunications providers in the nation to become Gig-Certified by NTCA—the Rural Broadband Association and achieved this milestone ahead of such metropolitan areas as Miami, Atlanta and Charlotte. Gigabit broadband delivers 100 times faster Internet speeds than traditional broadband, creating a next generation experience that has no rival.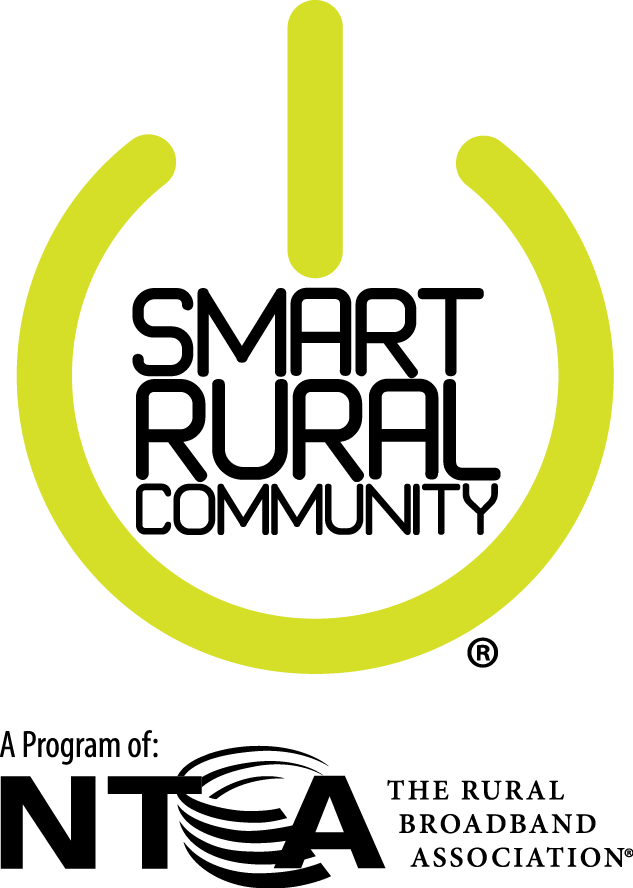 In 2016, SkyLine was named a "Smart Rural Community" National Award Winner by NTCA-the Rural Broadband Association for building a robust fiber network and to provide innovative and collaborative broadband solutions that enhance local communities.
How does SkyLine/SkyBest stack up to regional competitors?
SkyBest outperforms the competition with symmetrical speeds up to 1 Gig.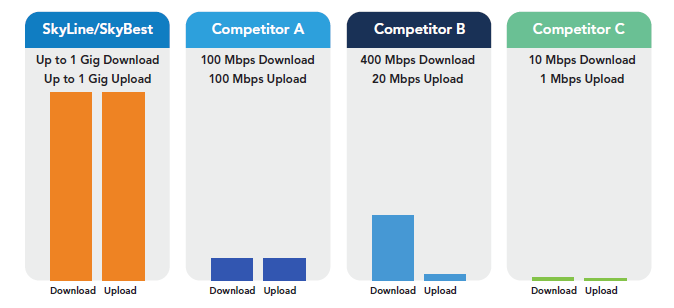 I have access to fiber-optic internet. Now what?
When deciding on internet speed, most people pay close attention to download speed without giving much thought to upload capabilities. In today's data sharing world, efficient upload speed is equally as important. Let's break down what upload and download speeds mean so you can better determine what's right for you.

Upload speed is how fast data is being sent to the internet. This includes uploading photos or videos to social media, participating in or hosting a video conference, sending an email, processing debit and credit payments or submitting assignments and forms online.

Download speed is how fast data is being received from the internet to your device. Examples of downloading include streaming a streaming movie, receiving an email, browsing the web and watching a video on social media.

With the average household utilizing six connected devices, a greater demand is placed on both upload and download speeds. And thanks to SkyLine/SkyBest's symmetrical fiber-optic speeds, you don't have to sacrifice on either. Our speed options offer the fastest internet connections around to keep your home or business online seamlessly.

SkyBest offers a range of Internet speeds to meet your requirements today and tomorrow. Click here to see what speeds are available in your area (simply enter your address in our service map), call us at 1-800-759-2226 or email us at wecare@skyline.org. We look forward to serving you!