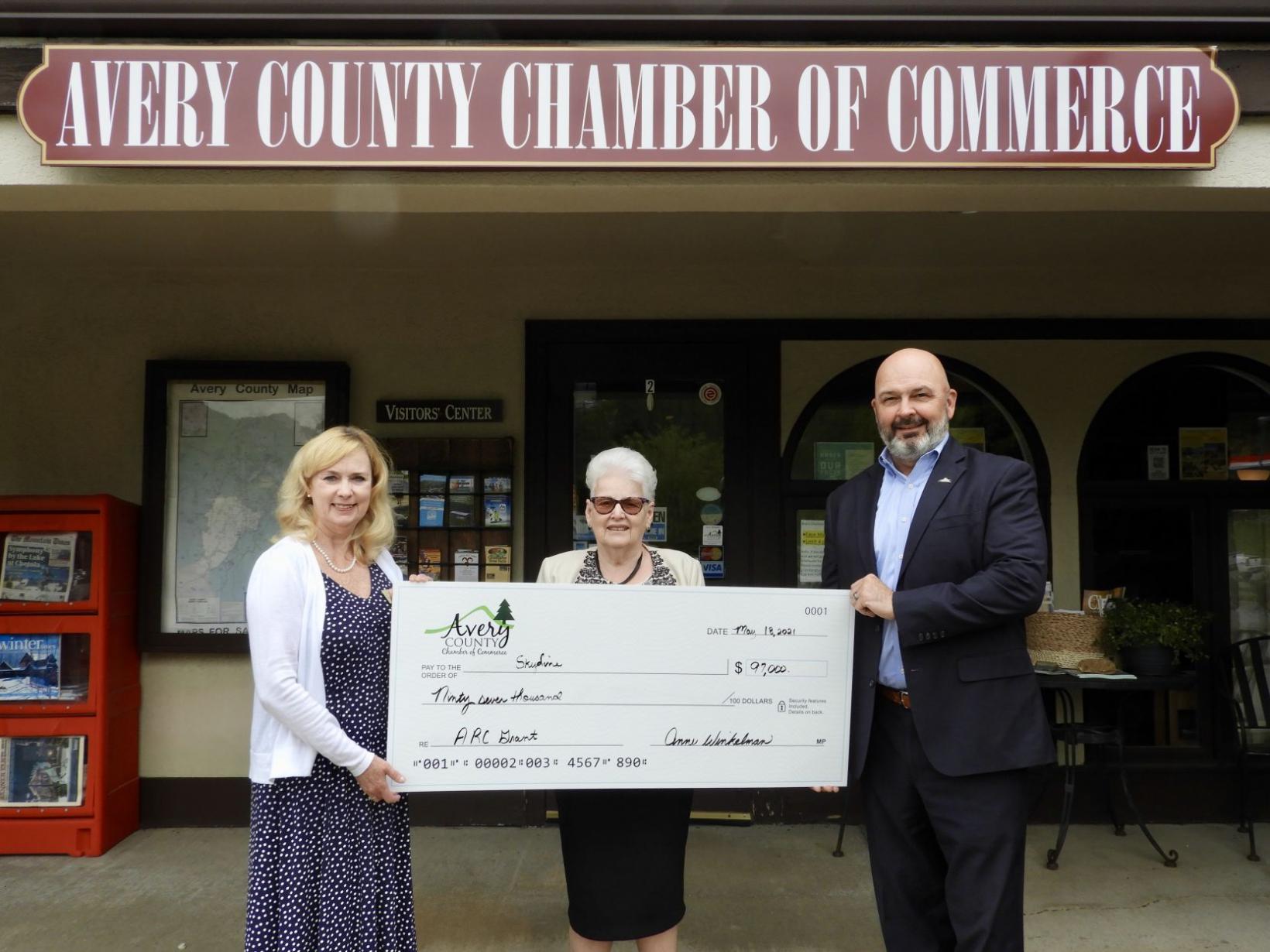 SkyLine Membership Corporation was awarded a $97,000 matching grant through the Appalachian Regional Commission (ARC) and the Avery Chamber of Commerce to extend broadband connectivity to identified unserved and underserved areas of Avery County. Pictured from left are Anne Winkleman, Martha Hicks and Edward Hinson.
WEST JEFFERSON, N.C.—SkyLine Membership Corporation has been awarded a $97,000 partner grant through the Appalachian Regional Commission (ARC) and the Avery Chamber of Commerce to extend broadband connectivity to identified unserved and underserved areas of Avery County.
The grant, which requires a $100,000 match from SkyLine, mandated that the Chamber to seek a qualified partner to provide the technical expertise and capacity to use the ARC funds awarded to the Chamber to make available high-speed internet services to as much of the identified areas as possible. The grant opportunity stemmed from a 2015 survey from Avery residents who reported inadequate broadband access in areas of southern Avery County. The project's goal is to provide affordable, adequate internet access to as many unserved and underserved residents and businesses as possible.
SkyLine will bring fiber-to-the-premise (FTTP) connectivity to residents and businesses in the Riverside area of the county, with services provided by the cooperative's wholly-owned subsidiary, SkyBest Communications. With the most advanced fiber network in northwest North Carolina, SkyLine and SkyBest provide a triple-play of services including voice, video and Gig-capable broadband connections. SkyLine's fiber-based broadband uniquely offers symmetrical broadband or equal download and upload speeds of up to 1 Gig.
"We recognize the pressing need of our neighbors in Avery County located outside SkyLine's service footprint who have not been able to access adequate broadband service," said SkyLine Chief Executive Officer (CEO) Kim Shepherd. "It has been our goal to extend our fiber network to contiguous communities that are desperate for internet service, but it can only happen when we can marry our own company resources with additional grant funding through public and private resources. We are grateful to the ARC and the Avery Chamber for choosing us to leverage the strengths of our robust network and our company's record of fiber deployment for this important project."
The extension of broadband access to more areas of Avery County is critically important according to Anne Winkelman, Executive Director of the Avery Chamber of Commerce. "The past year has proven to us how vitally important broadband is to our community—our children had to shift to online learning, our businesses had to adjust in how it served their customers, and our healthcare providers had to pivot to virtual appointments to continue patient care," she said. "We appreciate this grant opportunity through the ARC and value SkyLine as the local partner to see this project to completion."
About SkyLine
SkyLine Membership Corporation has a storied history of bringing advanced telecommunications services to northwest North Carolina and east Tennessee since its formation as a member-owned telephone cooperative 70 years ago. Recognized for its Gig-capable fiber network as one of the largest and most progressive rural telcos in the U.S., SkyLine and its wholly-owned subsidiary, SkyBest Communications, deliver advanced communications and technology solutions over an expanding network in northwest N.C., east/middle Tenn., and upstate S.C. The companies specifically provide symmetrical Gig broadband and bundled services (voice, internet, digital TV), business communications, network and hosting solutions, business phone systems, monitored security and surveillance services.
SkyLine and SkyBest are pursuing ways to extend the delivery of fiber technology to underserved areas, engaging collaboratively to advance the telework economy and contributing meaningfully to communities across their service footprint.