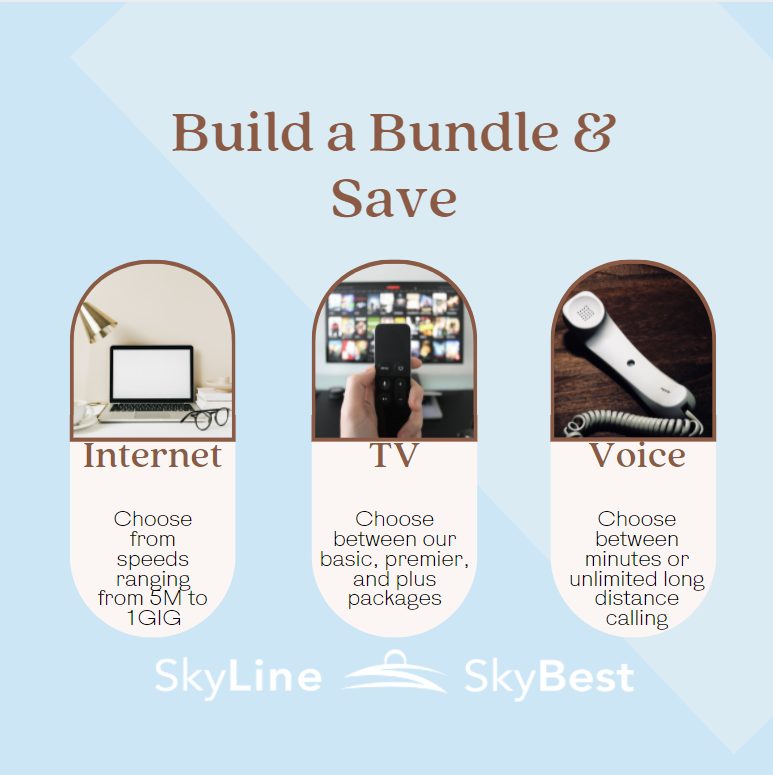 Why are Bundles Great?
Bundles are great for multiple reasons. The first and obvious reason is that they'll save you money and time. With our easy to use Build a Bundle tool, just go through and click on what you need and your price will be added up for you right there on the same page.
Another great thing is that you'll only have one bill! Having less bills to keep up with could also result in saving you money from late fees because you will only have to keep up with one bill and one due date.
Also with the different bundle options we have here at SkyLine/SkyBest you'll be able to choose the package that works the best for you.
What Bundle Is The Best For You?
When it comes to choosing your bundle here at SkyLine/SkyBest we give you options with our Double Play and a Triple Play bundles. Which means you can get an Internet/TV bundle or an Internet/TV/Voice bundle.
When choosing your internet speed for your bundle you can choose from 5M all the way up to 1GIG!
For you TV package you will get the choice between the Basic, Plus, and Premier.
Lastly, if you choose to do the Triple Play bundle you can choose between long distance of 200 minutes or unlimited.
Click here to visit our Build a Bundle page to see prices and pick the bundle that is best for you.
For questions and additional information make sure to visit our website or call us today at 336-877-1350.