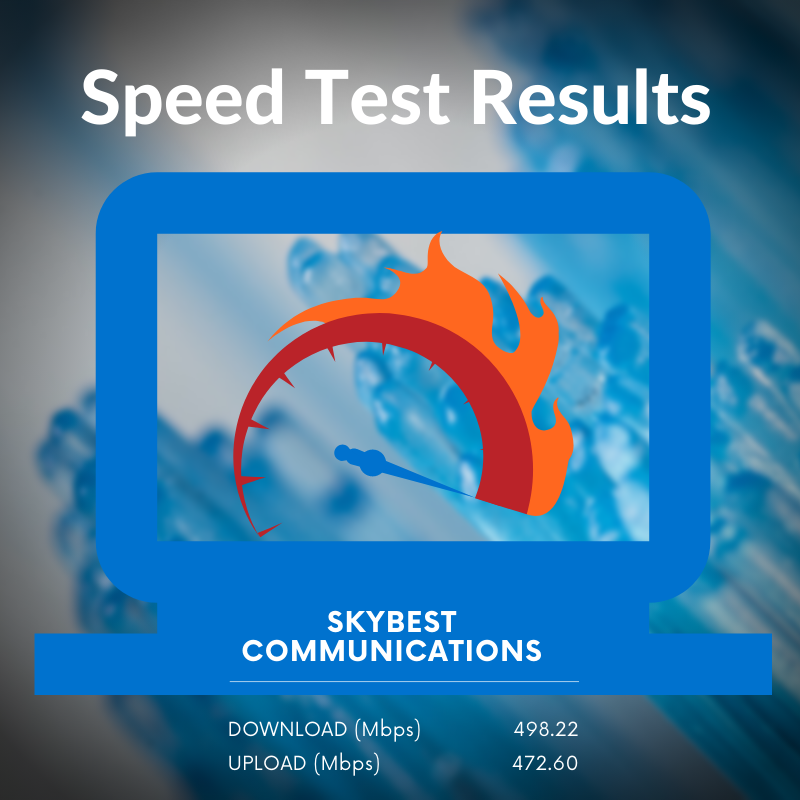 Running a speed test is a quick way to monitor how well your internet connection is working and at what speed information is being transmitted over the internet. Using a speed test tool like the one found here will give you both upload and download speed of your internet connection at the exact time the speed test is ran.
Your speed test will not only confirm your internet connection for downloading content but it will also provide your upload speed. Upload is the second number you see listed on a typical internet speed. For example, a competitors speed of 60/3 Mbps, means 60 Mbps download and 3 Mbps upload. SkyBest offers symmetrical speeds up to 500/500 Mbps. If you were to compare apples to apples, the competitor would only have a 3/3 Mbps symmetrical internet speed. Can you imagine trying to power all of your connected devices on 3 Mbps! If you are unsure what your current upload speed is by another provider, visit the speed test tool at http://skybestsupport.net/. Need more speed? Give us a call at 1-800-759-2226 or visit www.skybest.com for more information. We pride ourselves on delivering the best internet service to the counties of Alleghany, Ashe, Avery Caldwell, Watauga, NC and Johnson, TN.
As a current customer, your dedicated SkyBest fiber-optic internet connection will never experience slowdowns due to increased traffic. If you detect a major slow down with your SkyBest internet that is confirmed by a speed test, there could be a more serious issue. Your speed test results are a great resource to pass along to repair technicians if are experiencing an issue. For repair services call 1-877-475-9546 to report an issue.